July has come to an end. I can't believe how quickly it went! I will miss the summer, but am looking forward to the upcoming school year. It's going to go so fast though, and all I want is for time to slow down. 2012 is more than half way over!!
Anyhow, every month, I share my favorites of the following:
1. Favorite Washi Tape
2. Favorite Etsy Store and/or "etsy-ish" store
3. Favorite Blog
4. Favorite beauty and/or health product
5. Favorite foodie find
6. Favorite DIY tutorial
7. Favorite package/mail/letter that you either sent or received
As always, I invite you all to do the same! I enjoy seeing what other people enjoy for the month since it gives me ideas.
1. Favorite Washi Tape:
I've really been loving this pastel, colorful washi tape. It is so pretty! This pair was the one I used for a baby shower gift I gave to my cousin. These two go really well by themselves or with other striped/dotted patterned washi tapes. I love them so much!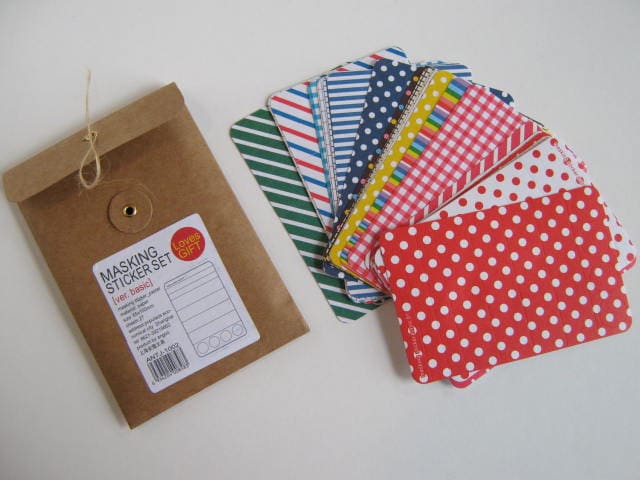 This shop has such pretty packaging supplies from washi tapes, to paper bags, to twine, etc. What I really loved most at this shop though was their sticker collection. I haven't really seen these around, but I would love to have a set of these masking sticker sets. They have pretty patterns and I can imagine all the fun things you can do with them to letters, packages, and gifts.
3. Favorite Blog:

Papered Thoughts
I just found this blog in the last few weeks and I absolutely LOVE it. Letters, packages, washi tapes, stationaries, etc. Everything I love and captured beautifully through her photos. I admire her blog very much.
4. Favorite Beauty and/or healthy product:
Nude 'Tude Eye Shadow Palette
It would have to be my Nude'Tude palette that I won from a youtube giveaway. One of my beauty guru's did this giveaway and I have been really loving this eyeshadow palette. Many youtube beauty gurus claim this is comparable to the highly coveted naked palette. I can't really compare since I don't have the naked palette, but I do really love this one. There are a variety of neutral colors that can be used for simple, every day looks.
5. Favorite foodie find:

Sapporo Ya

in Japantown SF
Tried this place a week ago and really enjoyed it. It's not my most favorite ramen place in San Francisco, but they handmake their noodles. I'm more of a broth person when it comes to ramen - broth will be what will win me over. This place was delicious because of it's noodles. They look delicious right?
When I saw this, I thought it was so pretty. It totally looks like something I would buy for my house to spruce it up. Kat from the
Craft Bureau
made this based on a tutorial she saw from
here
. I really love love love the pattern she chose too - which she said was inexpensive. I hope to try making one at some point in time because it's just so cute!